The convenience of an ATM. The personal service of our bankers.
We're excited to announce the installation of our new Interactive Teller Machine (ITM), aka iBanker. This new teller machine has all the functions of an ATM, plus the ability to access a live banker through video chat.
Now Available at our James Campbell, Charlotte, College Street Columbia branches!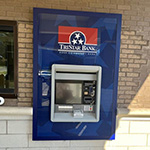 Watch for the completion of our Neapolis iBanker in September 2022.
Why You'll Love iBanker
All TriStar clients will have extended banker access!
Live bankers are available via iBanker:
Monday through Friday, 7:00 am-6:00 pm
Saturdays 8:00 am-noon
Excluding bank-observed holidays
(It is still available to use as a standard ATM 24/7)
It's like an ATM, but so much more!
iBanker allows TriStar customers to work with a live banker to:
Deposit checks
Cash checks
Make loan payments
Inquire about an account
Check out this video on iBankers:
iBanker Days
Watch social media for our upcoming iBanker Days with fun, food, prizes, and more!
Frequently Asked Questions (FAQ)
We know you may have questions and want you to know we are here to answer them. For more information, please review the Frequently Asked Questions.
Still have questions?
Stop in or contact our caring bankers at (615) 446-7100 during regular business hours.